Les Roches Crans-Montana, Switzerland
About Les Roches Crans-Montana, Switzerland
Introduction to Les Roches Global Hospitality Education


Founded in 1954, Les Roches is a private institution based on the Swiss model of experiential learning, offering undergraduate and graduate degrees in the fields of hospitality, tourism and event management.
Nestled in the Swiss Alps, just a few minutes' drive from the famous ski and golf resort of Crans-Montana, Les Roches Switzerland is home to a diverse student body and a dynamic student life, rich in opportunities for personal and professional development.
Les Roches is accredited at the university level by the New England Commission of Higher Education (NECHE).
Accreditation and Recognition
NECHE – Accredited by the New England Commission of Higher Education (NECHE).
Besides enjoying worldwide recognition among international hospitality and tourism companies, Les Roches is also recognized by the Valais Cantonal Authorities in Switzerland.
In addition, Les Roches Global Hospitality Education is a member of:
Council on Hotel Restaurant and Institutional Education (CHRIE – USA) and EUROCHRIE (Europe)
International Association of Hospitality Management Schools (IAHMS)
Association of Swiss Chefs
Association of Directors of Hotel Schools (EUHOFA)
The Leading Hotel Schools in Europe (EURHODIP)
European Council on International Schools (ECIS)
Council of International Schools (CIS)
Swiss Association of Maîtres d'Hôtel
International Hotel & Restaurant Association
Swiss Learning
Affiliate member of the United Nations World Tourism Organization (UNWTO)
Programs & Entry Requirements
Programs: Switzerland and Global
Intakes: February and September 
Undergraduate Program
OUR UNDERGRADUATE BBA SPECIALIZATIONS
Undergraduate Admissions Requirements
Postgraduate and Master Programs

Postgraduate Admissions Requirements
Tuition Fees
Tuition Fees ( CHF – Swiss Francs )
Please take note – The prices stated below are in Swiss Francs currency, per person per academic semester. Each academic semester is 6 months of studies.
Application Fee
A fee of CHF 275 is required with each application. Complete credit card information must be provided on the application form. This fee is not refundable.
Pre-Payment
New students: upon acceptance of your application, a pre-payment of CHF 3,000 must be paid within 20 days from the date of the acceptance letter, in Swiss francs, by bank transfer, credit card or online at lesroches.flywire.com. This pre-payment confirms your place in the program and is refundable if a formal written cancellation is received before 15th May (for the summer intake), 15th September (for BBA1 October intake) or 15th November (for the winter intake). The pre-payment is deducted from the first semester's invoice.
Please note: if the student postpones his/her studies after the pre-payment has been made, the balance will be carried forward for the next intake only. If a student postpones to the next intake and subsequently cancels no refund of the pre-payment will be made.
Postgraduate and MBA Programs
Master in Hospitality Strategy & Digital Transformation
Pre-Sessional Program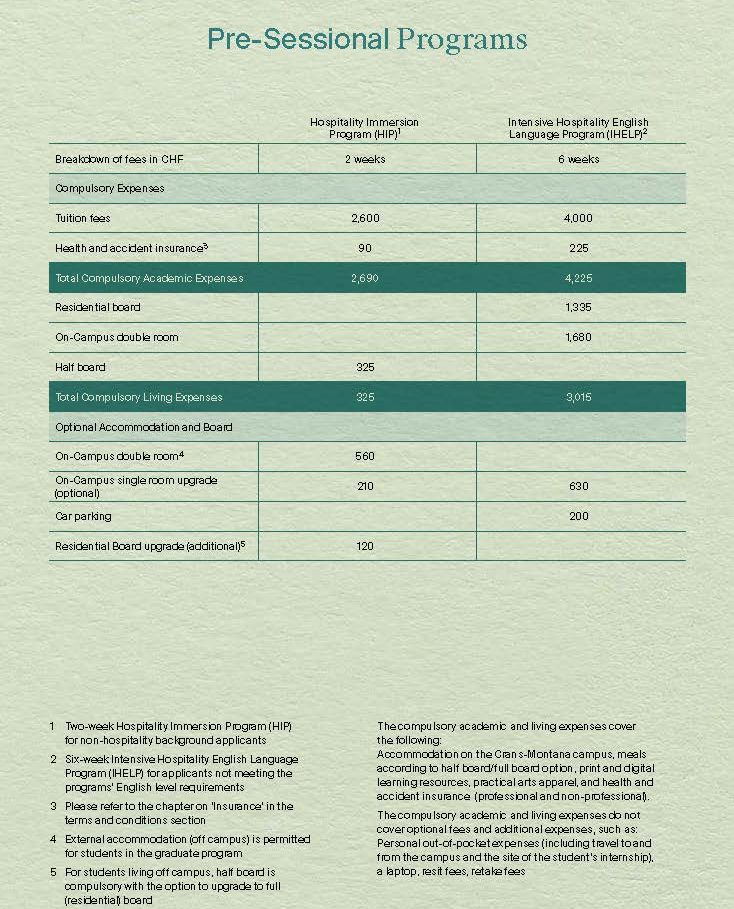 Internships Opportunities
Internships


Internships are part of the majority of the programs and play an important role in all undergraduate level studies. This valuable experience enables students to put into practice their theoretical knowledge and to face real work situations that are encountered in today's fast evolving environment. Internships also increase their employability as they enter their career with an education enhanced by extensive professional work experience. Les Roches students undertake their internships all around the world.
Recruiting Company on Campus
Each year, more than 130 of the industry's top employers visit the Les Roches campus to interview and recruit students for internship and first-employment opportunities. Our Career Development and Industry Placement (CDIP) office helps students to search for jobs, prepare for interviews and make career decisions.


Les Roches Global Hospitality Education Summer Camp
Summer Camp for Under 18 years old (2020)
Summer Camp for 18-26 years old (2020)
Interested To Study at Les Roches Crans-Montana, Switzerland
Fill in your details below and we will guide you through the process.