Blue Mountains International Hotel Management School
About BMIHMS
For over 25 years, BMIHMS has been launching the careers of thousands of hospitality management graduates.
BMIHMS has joined Torrens University Australia to become BMIHMS at Torrens University.
This move increases collaboration between Laureate's institutions in Australia, improves opportunities and outcomes for students and creates an environment that will encourage further innovation.
BMIHMS at Torrens University has retained all the elements that make BMIHMS unique – our name, identity, campuses, applied learning, great teachers, industry connections, alumni and reputation – but with enhanced university prestige, pathways and opportunities.
Torrens University brings a fresh, modern, careers-focused and global perspective to higher education, aiming to provide graduates with a globally oriented skill set that will make them desirable to employers.
Being part of Laureate International Universities, BMIHMS at Torrens University is also connected with over 80 universities worldwide across 29 countries.
Torrens' association with Laureate International Universities gives students the opportunity to leverage the network of over 1,000,000 students around the world – including more than 100,000 online students.
For more information on Blue Mountains visit, www.bluemountains.edu.au
Choose BMIHMS-Students Benefit
About Australia – Campus Locations in Leura and Sydney
A Great Enviroment to Work and Study
Whether you study on both our campuses or enter one of our postgraduate courses in Sydney, there are many aspects that make studying at the BMIHMS at Torrens unique. BMIHMS provides a tight-knit learning community at a size that makes it easy for you to get involved in life on campus.
Employment Opportunities
Both campuses are located in areas of high tourism. The Blue Mountains tourism industry is renowned for employing our students in hotels, sporting clubs and function centres, all located close to campus.
Sydney attracts more than three million international visitors each year. It has a thriving tourism and hospitality sector, ranging from five-star and boutique hotels to day spas, casinos, luxury yachts, sports clubs and outdoor adventure sport operators. Our Sydney Campus offers students many tourism-related career and networking opportunities through industry partnerships and its close proximity to international hotel chains.
International students are eligible to work 40 hours per fortnight during term and full time during term break on their student visa.
Programs
Introduction
BMIHMS at Torrens University students are able to complete business degrees, specifically focused on hospitality management, at both an undergraduate and postgraduate level. Whilst completing their courses students have the opportunity to study internationally in Asia, Europe or the USA.
All degrees offered by BMIHMS include industry based work experience, with most placements paid. Our graduates are grounded, socially aware, and well prepared to commence, or continue, their career within hospitality and beyond.
Bachelor of Business Degree (Specialization options) – 2.5 Years


Program Outline and Entry Requirements


Postgraduate Courses (Masters) – 2 Years
Program Outline and Entry Requirements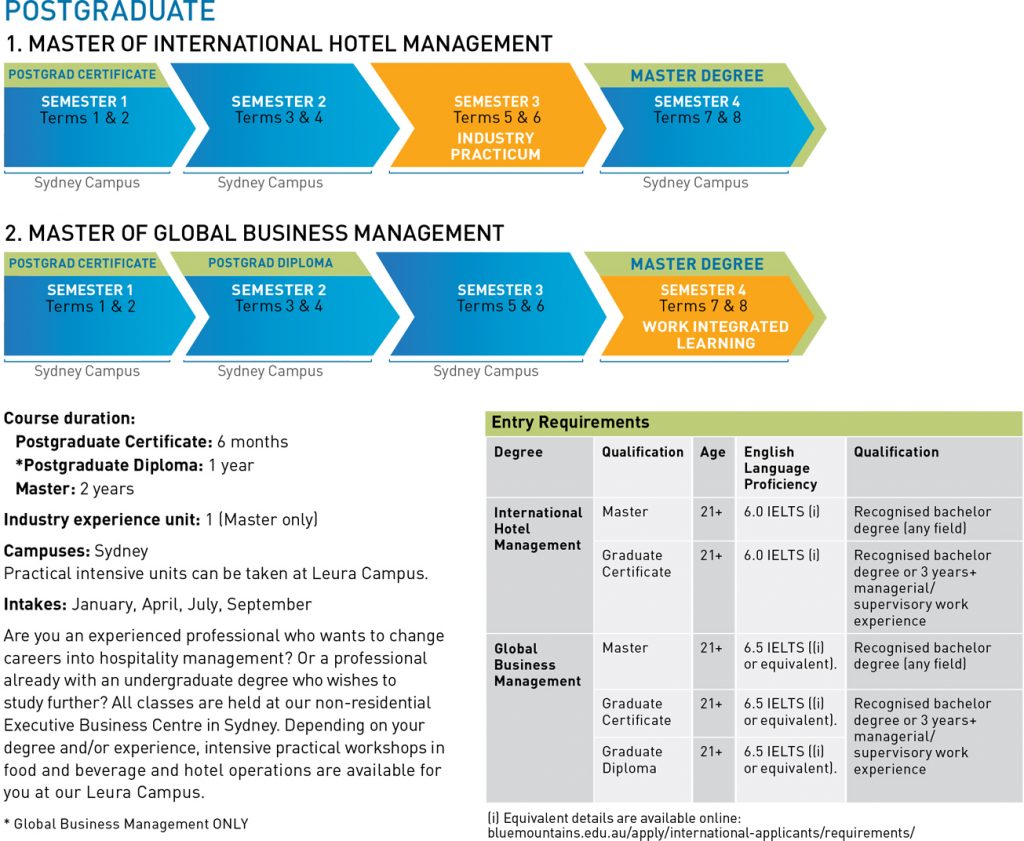 Internship Opportunities
Your Internship


BMIHMS has a Career Development Department on both campuses. This team is dedicated to helping you become workplace ready. Their key role is to guide and assist you in finding suitable industry placement positions.
To fulfill your course requirements, you must apply for and accept one of the recommended positions in Australia or abroad. You must also meet the position selection criteria and pass a job interview with each employer. The Career Development team will help you to prepare and grow the professional skills you need for employment.
Student Access to Industry Contacts


Our Career Development department connects you with our database of more than 10,000 hiring managers. We have strong contacts in hotels, resorts, restaurants, events companies and other tourism employers throughout Australia and the world. Our ongoing contact with graduates in the industry, through our worldwide alumni network, also strengthens our professional networks.
Global Opportunies


Work and network all over the world. This is how our alumni network will work for you.
While studying at BMIHMS students will interact with many of the schools alumni through their academic studies.
After graduating from BMIHMS, you become part of our 3000+ alumni network known as ABAA. The association comprises nearly 25 years of graduates, many of whom are now industry leaders. ABAA offers you a lifetime of invaluable networking and can help you to secure the best possible employment opportunities.
Tuition Fees
Tuition Fees ($AUS)
Please take note – The prices stated below are in $AUS currency, per person and per academic term.
Bachelor of Business Degree
Leura – Accommodation on Campus
Accommodation
Students live in twin share hotel-style rooms, which contain a television, a private ensuit bathroom, a telephone line and 24/7 Internet access. Rooms are cleaned weekly and all linen is provided. Single rooms with en-suit are limited, subject to availability and incur additional costs.
Leura – Meal Options
On-Campus Dining
During residential terms all main meals are provided, three times per day The campus offers a choice of tasty and healthy dining venues: Chambers, an a-la-carte fine dining restaurant; Yu&Me an Asian style fusion bistro; and Cookie's, an indoor/outdoor cafe.
Light snacks are available from the coffee cart and cafe three evenings per week adn wine can be purchased with dinner, where Responsible Service of Alcohol is strictly followed.
Postgraduate Master Courses

Sydney – Accommodation
Accommodation
Students studying at our Sydney Campus live off campus. BMIHMS can assist you by recommending our student accommodation partner, which is located 15 minutes walk from campus, or you can organise your own accommodation in private housing throughout the city and surrounding suburbs.
Cost of Living
This table gives you a rough guide* of average costs for a student living in Sydney. Of course, your cost of living will depend on your personal lifestyle, but we find most students need approximately AU$400 to AU$650 per week.
Interested To Study at Blue Mountain, Australia?
Fill in your details below and we will guide you through the process.